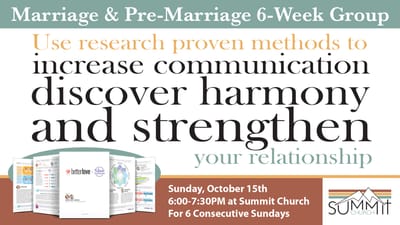 Marriage & Pre-Marriage 6-Week Workshop.Use research proven methods to increase communication discover harmony and strengthen your relationship.
Sunday, October 15th
6:00-7:30PM at Summit Church for 6 Consecutive Sundays
Join us to learn more about yourself, your spouse and how you guys can live a happy and healthy life together!
This SYMBIS program assesses which personality each spouse fits, and discusses the strengths and weaknesses of each personality type. It also provides information as to how the different personality types interact with one another. An individual's personality type impacts many things, including how you both show and receive love.
STEP #1:
Let us know you are interested by emailing us at
SummitChurchCounseling@gmail.com
STEP #2:
Go to
www.betterlove.com
to pay and complete the assessment for you to use in this awesome discovery
COST:
$35 per couple. Enter our group code (
GBYURPR8
) when registering for the assessment
COME:
Join us to discover and learn about you and your relationship starting
October 15th
for 6 consecutive Sunday nights
About the Facilitators:
SUMMIT Church Pastors Robert and Annalisa are certified SYMBIS Pre-Marriage Facilitators, and credentialed Addiction & Trauma Specialists. The aim is to engage with you in a collaborative soul care journey. We all face difficult life circumstances and inevitably pain. How we respond to the trials that life brings can make the difference between gaining wisdom and perspective or holding on to toxic emotions that can lead to addiction, depression and anxiety.
Pastor Robert Grand has authored 8 publications on Christian Counseling and Recovery. His wife, Annalisa, is a Board Certified Biblical Counselor and specializes in counseling those afflicted by codependency, trauma and marriage difficulties.